Latest News
Tuesday, 27 November 2012
Saturday, December 1st will be a great day for Peoples' Justice! PJ member orgs Malcolm X Grassroots Movement & CAAAV: Organizing Asian Communities are each hosting powerful community events! Build some freedom into your Saturday afternoon schedule & check out one of these events...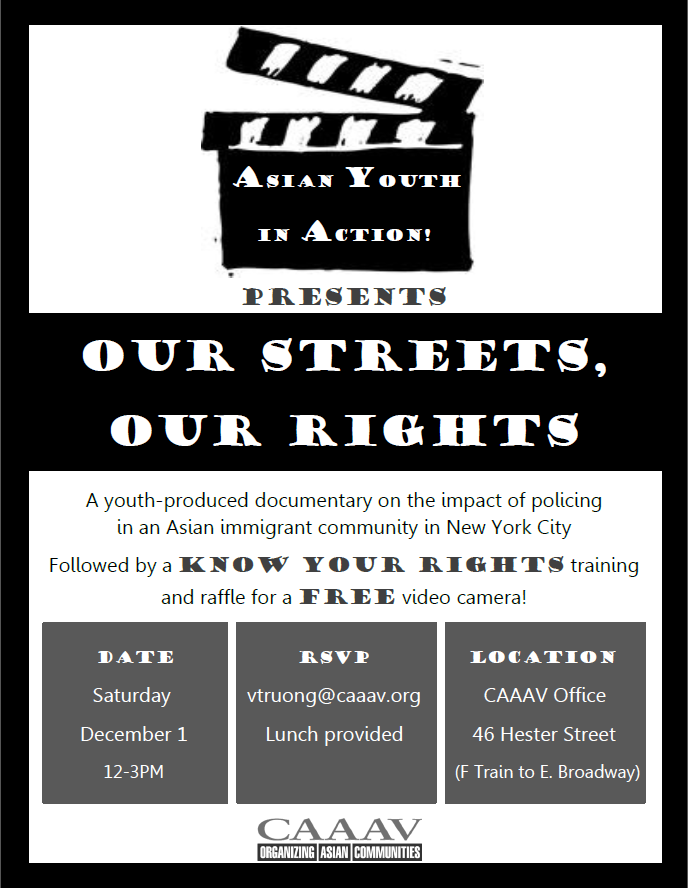 Latest News
Tuesday, 18 September 2012
Communities United for Police Reform Rally 9/27
On Thursday, September 27 Communities United for Police Reform (CPR) member, supporter and partner organizations will hold an Advocacy Day at City Hall to highlight the harm that stop-and-frisk abuses and related discriminatory policing practices have on communities. We will also be advocating for the passage of the Community Safety Act, a NYC Council legislative package reform package that aims to secure real NYPD accountability and transparency.
Read more...
Latest News
Monday, 10 September 2012
Peoples' Justice Cop Watch Training: September 13th!
Read more...
Latest News
Tuesday, 28 August 2012
Statement by the Malcolm X Grassroots Movement's People's Self Defense Campaign on the Crystal House Break-In by the NYPD
On Thursday, August 23, 2012 around 6:30pm in the evening there was a break-in by the NYPD into Crystal House, the Malcolm X Grassroots Movement (MXGM) housing initiative. Upon arriving on the scene with his five year old son, a member of the People's Self Defense Campaign (PSDC) of MXGM found approximately five 75th precinct detectives standing by the front entrance of Crystal House while another NYPD detective—who broke into the house by kicking in the basement door and proceeded to go upstairs to open the front door for the awaiting detectives—began opening the door from the inside of the residence with his gun drawn. The member immediately invoked his rights by asking that they produce a search warrant. The NYPD detective replied "we can do as we want." With hostility in their tone, the detectives continued to argue that they had a right to be there and insisted on intimidating and harassing the member in front of his son. In the midst of this exchange, neighbors in the area stood on their own stoops watching the situation unfold. After the MXGM member invoked his rights and denied access to search upstairs, the officers left and attempted to proceed with their search on the same street. Neighbors stood firm in asserting their rights and refused to allow NYPD detectives illegally enter and search their homes. Although these detectives continued their false claims of having warrants, at no point was a warrant produced. Absent a legitimate emergency, the police are not permitted to enter private property without consent of the owner/occupant. There was no such emergency on August 23rd and the police did not even claim there was one. Rather, they acted the way they normally do in communities of color: with total disregard for the constitutional and human rights of the people.
Read more...
Latest News
Tuesday, 21 August 2012
120 Black People Executed without Trial by the Police, Security Guards and Self-Appointed Law Enforcers Between Jan.1-June 30, 2012
Download the fully illustrated version of this report at: http://bit.ly/NeRI4g
Report by Malcolm X Grassroots Movement (MXGM)
A human rights crisis confronts Black people in the United States. Since January 1, 2012, police and a much smaller number of security guards and self-appointed vigilantes have murdered at least 120 Black women and men. These killings are definitely not accidental or random acts of violence or the work of rogue cops. As we noted in our April 6th, 2012 "Trayvon Martin is All of US!" Report (see http://mxgm.org/trayvon-martin-is-all-of-us/), the use of deadly force against Black people is standard practice in the United States, and woven into to the very fabric of the society.
The corporate media have given very little attention to these extrajudicial killings. We call them "extrajudicial" because they happen without trial or any due process, against all international law and human rights conventions. Those few mainstream media outlets that mention the epidemic of killings have been are unwilling to acknowledge that the killings are systemic – meaning they are embedded in institutional racism and national oppression. On the contrary, nearly all of the mainstream media join in a chorus that sings the praises of the police and read from the same script that denounces the alleged "thuggery" of the deceased. Sadly, too many people believe the police version of events and the media's "blame-the-victim" narratives that justify and support these extrajudicial killings.
Read more...
<< Start
< Prev
1
2
3
4
5
6
7
8
9
10
Next >
End >>
Results 7 - 12 of 107